Best Multipurpose WordPress Theme For 2021
check out this top Best Multipurpose WordPress Theme For 2021. 
MORE INFO / Buy Now | DEMO | GET HOSTING
If you are looking for an all in one multipurpose WordPress theme to handle any types of Cryptocurrency, VPN, Money Exchange, Virtual Credit/Debit Card and Web Hosting business then Bizdrone is the exact theme you are looking for. It is a premium and standard WordPress theme which is WHMCS supported. And with the help of WHMCS, you can get the automated client management and billing feature into your WordPress theme. You don't have to worry about your client management, billing or support anymore because it is a complete solution for all those services for any type of online business.                             
Bizdrone is a Premium WordPress theme that is fully responsive. That means it can be used from any type of device such as laptop, desktop, in any resolutions. It is fully functional to run a complete technology business online. Though it has many advanced features and functionalities, it provides a very simple and easy to use user-interface.
Bizdrone is an ideal Premium WordPress theme for any types of business related to technology, or web hosting. So it gives you the freedom to design and develop your theme all by yourself. And you can do that without having any knowledge or previous experience of designing & coding. It's based on the latest Bootstrap which makes it very stable. It features multiple home pages in different categories which are all unique. It also features different elements to be used like the pie charts, currency rate bars, 24/7 price update, currency calculator and many more which are completely dynamic. Also multiple premium plugins are included with Bizdrone which are awesome and will save your cost.                      
Special Features of Bizdrone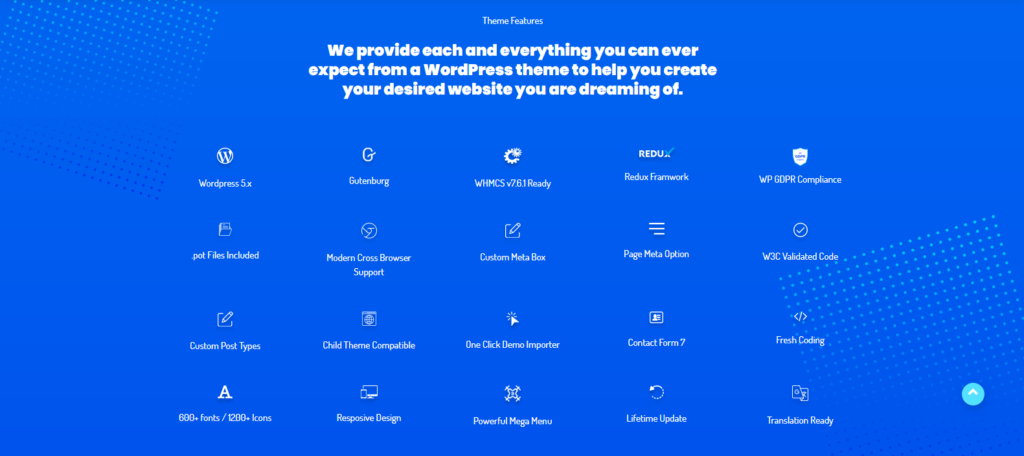 MORE INFO / Buy Now DEMO GET HOSTING
Bizdrone features multiple home page versions including the Dark, Light, Virtual Card, Hosting and many more versions to come. These are all unique having useful features.
Completely Dynamic Pie Charts & Progress Bars
It has different versions of Pie Charts and Progress Bars which are completely dynamic and updates very frequently. So now you can feature any of your currency and price updates dynamically.
Cross-browsers Compatible
Bizdrone is compatible with any of the modern cross browsers. So you can use it with all the top listed browsers without any trouble.
With the availability of Contact Form 7, you will have the freedom to create & manage multiple forms and easily customize the form fields. It is also possible to add additional functionalities by using third party extinctions. So inserting forms into any pages or posts and managing them is much easier in Bizdrone.                   
It has a powerful admin panel with lots of features and functionalities. So now you can have the total control of your WordPress website all in one place.    
Now you can customize your website like never before with its advanced customizer. From header to footer and every section are customizable just as you want.      
Bizdrone comes with 1 click demo import and you can import your demo very easily by just a click within a very short amount of time.  
Bizdrone is fully responsive and supports any resolutions. So it can be used from any of the devices and in any resolutions.  
Custom sliders and backgrounds
You can give your own personal styling and create your own custom sliders and backgrounds without knowing how to design or code.
Bizdrone offers unlimited color variations and you can select your favorite colors from a wide range of collection.    
What Layouts Configurator does is, you can build your own custom layouts and you can easily assign them to different pages which will reduce your effort in building separate layouts and will save your time.
Building websites are easier than ever with the help of our pre-made widgets which can be used inside the sidebar or in the footer columns.
Now you have the power to choose if there will be a single or dual sidebar or no sidebars. After selecting that, you will have every control over your sidebar.
With the availability of the POT files, Bizdrone becomes a ready translator which is capable of translating any language.
Bizdrone is WordPress v4.9.x ready which means you will not miss a single thing.
With this theme, you will get all the future update as soon as it releases. That is why you don't need to worry about getting backdated anymore.
Bizdrone comes with child themes compatibility and you can include or create any child themes that you want.
Bizdrone features unlimited fonts and you can use your own favorite fonts to make your website look more like yourself.
It has been developed by using the redux framework which makes it very modern and standard.
Bizdrone has a very clean and unique design which will surely catch the eye of the customers .
This theme has been developed with fresh and error free coding which proves its dedication to the clients.
There are many types of blog layout variations like the one column right and left sidebar and the two and three column left and right sidebars which will save a lot of time of yours.
Why to choose Bizdrone?         
MORE INFO / Buy Now DEMO GET HOSTING
Bizdrone is based on WordPress version 5.0.x which makes it a standard Best WordPress theme. It is also based on the latest version of Bootstrap. Bizdrone features multiple home page variations to give you everything you need to start creating your own business website. And these are Crypto Dark, Crypto Light, Crypto v2 Dark, Crypto v2 Light, VPN Home Page, Money Exchange Home, Virtual Card Home Page, Hosting Home Page. Also there are many home page versions to come very soon in different exciting categories like Hosting Color, light and dark versions, business template, creative agency, single product, ecommerce and more.
It features completely dynamic pie charts & progress bars. So you can feature any currency rates or price updates dynamically. So any of your data will get updated and displayed instantly. Bizdrone offers the WPBakery Page Builder premium plugin for free. This will save you a cost of $46 dollars. Also, there are some of the more plugins included with Bizdrone which are the GDPR, One Click Demo Importer, Contact Form 7, CMB2, CMB2 Tab, Bizdrone Core, Redux Framework.
More than ten Main Menu variations are available with Bizdrone which will make you build unique menu designs. More than 40 shortcodes are available in Bizdrone and with the help of the shortcodes, you can build your website without writing a single line of code.
A complete collection of useful widgets are included in Bizdrone by which you can show any contacts, newsletters, market price updates or even insta feeds. The Drag & Drop page builder will allow you to build your website and page layouts by just dragging and dropping the elements exactly that you want.
By using the Theme Options, you can change any of the theme settings without writing or editing any codes. Also, there are custom icon styles and custom icon fonts supported with Bizdrone. So you can create your own custom icons. And with all of that, the WHMCS 7 template is pre-included with Bizdrone which makes it a complete client management system and also an automated billing system.
MORE INFO / Buy Now DEMO GET HOSTING
Gutenberg wordpress theme, Gutenberg tutorial, wordpress gutenberg theme, Gutenberg Optimized Theme, Gutenberg Optimized WordPress Theme, learn gutenberg wordpress, wordpress gutenberg tutorial
MORE INFO / Buy Now DEMO GET HOSTING
Exopress is a Multipurpose Personal Blog WordPress Theme designed to build any kinds of Personal and Professional Blogging Website etc. Build with Elementor Page Builder Plugin. Anyone can easily update/edit this theme by following our Well Sorted 
Online Documentation
.