DarkLooks is an excellent plugin that will allow you to enable dark mode in WordPress sites. Let's give your eyes a treat by using DarkLooks' WP dark mode on the WordPress site for having a long-time eye-soothing WordPress using/viewing experience. Your website can be instantly transformed into a dark version using the DarkLooks plugin.
The plugin's Dark Mode will work automatically without requiring any additional settings. Your website will appear in a dark mode in accordance with the preferences of your users' operating systems as soon as the plugin is activated.
How to Use DarkLooks- Dark Mode Switcher on Your WordPress Site
The WordPress dark mode plugin is compatible with all operating systems, including Android, iOS, and Mac. It requires no tricky additional configuration, you can get all settings done without any hassle. With the plugin, readers can experience a dynamic, handcrafted dark mode experience, automatically detected by the plugin.
Once you download and install the plugin on your WordPress site, the dark mode will appear on the left side of your WP Dashboard. Please do have a look at the Live Demo to get to see how it'll look like.
In this post, you'll see how to use the plugin on your WordPress site and why you should choose DarkLooks- Dark Mode Switcher, over other dark mode plugins in the market. Without wasting any time let's get to the business. All the vitals settings of using this  WP dark mode plugin on your WordPress is explained below-
General Setting
In this section, you'll be able to enable Frontend Darkmode, OS dark mode on your WordPress site. However, the mode-changing floating switch option of dark mode will also be available from this section by which you can switch dark and light mode with just a click.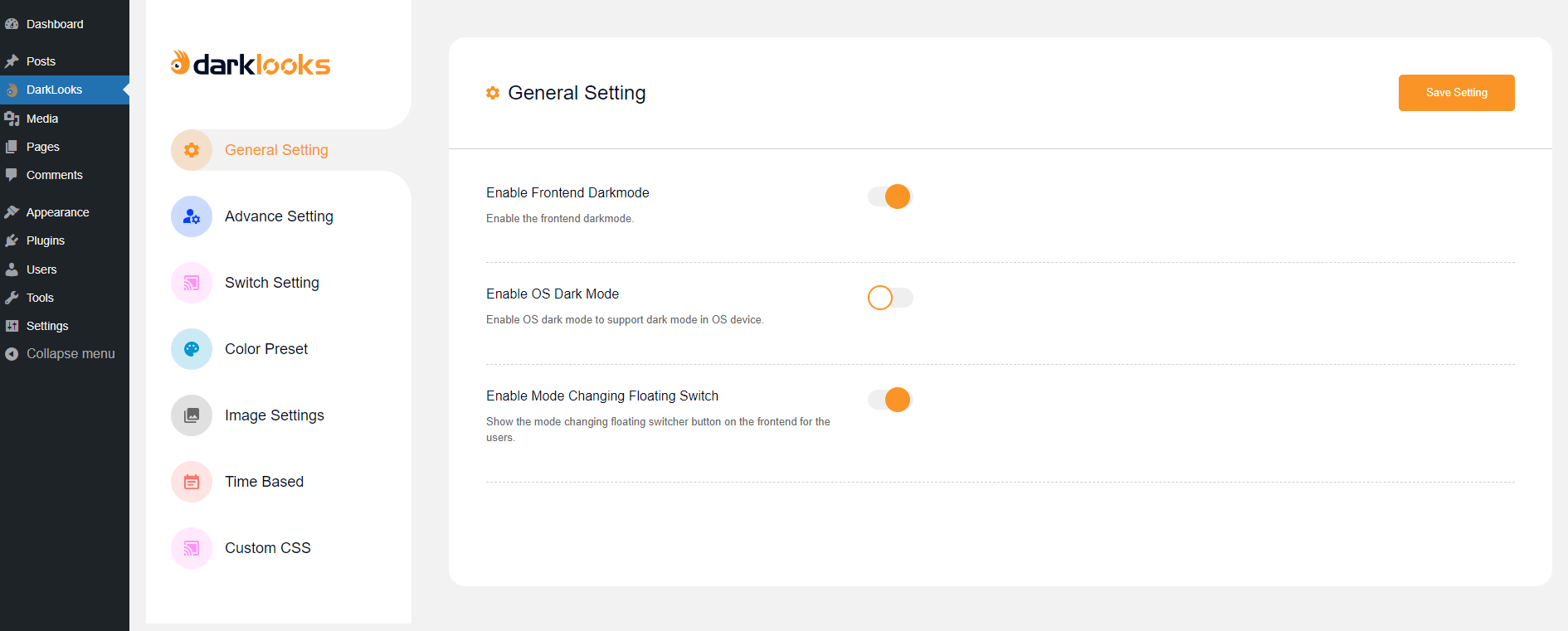 Advance Setting
The heading says it all. You'll get all the advanced features of this dark mode plugin in this section. For instance, dark mode body font size (to adjust the font according to your preference), mode changing switch in the menu, switch light/dark text.
Switch Setting
You can set the dark mode switch wherever you want on your WordPress site. The switcher position is there with all the options in the dropdown menu. Additionally, a 5 mode changing switch is there for you, go with the one that attracts you more.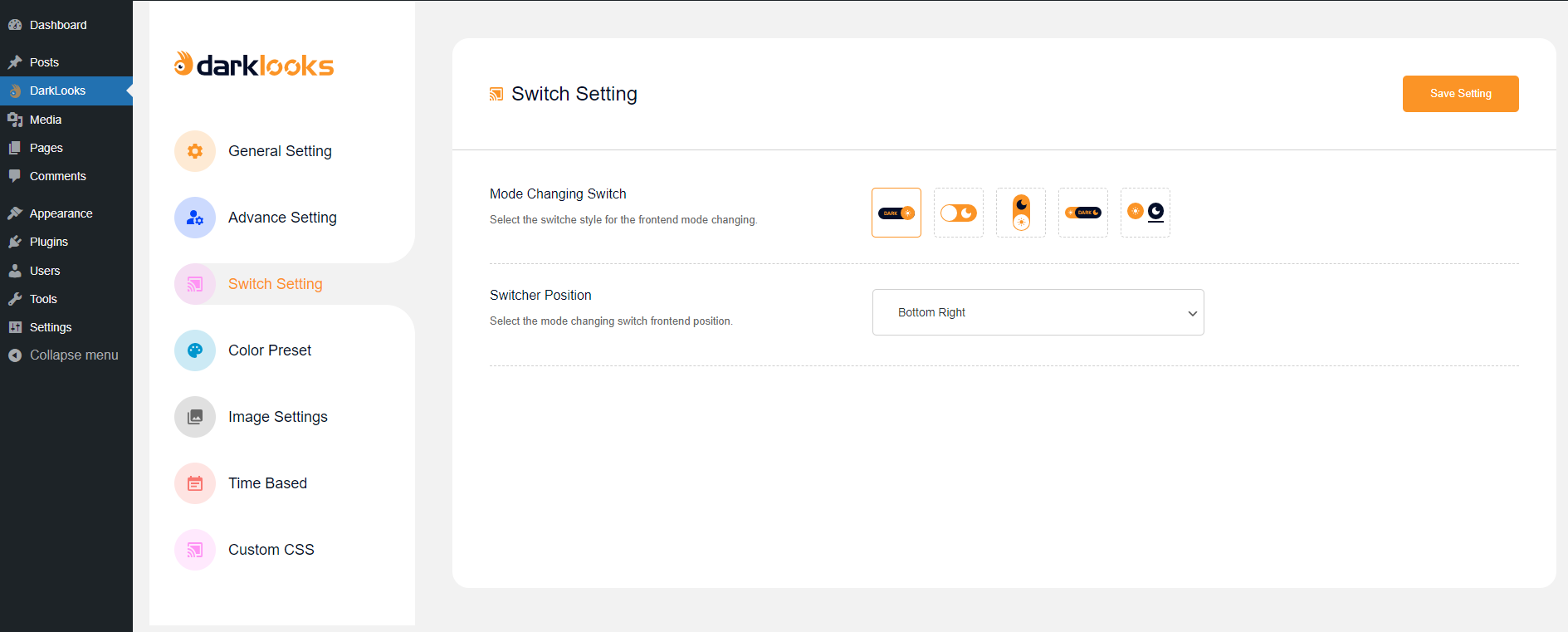 Color Preset
9 color presets are being set up in this dark mode WordPress plugin that is very appealing to the viewers. Choose your preferred one accordingly. On top of this, a custom front-end color will also be chosen in the plugin if nothing pleases you anyhow.

Image Setting
The image setting consists of several features which you can go with, it's all about adjusting your site images with the dark mode appearance. More specifically, the site logo can be uploaded both for the light and dark modes on your site. To continue the bulk features of this WP dark mode plugin, you can adjust the image opacity of your site as well.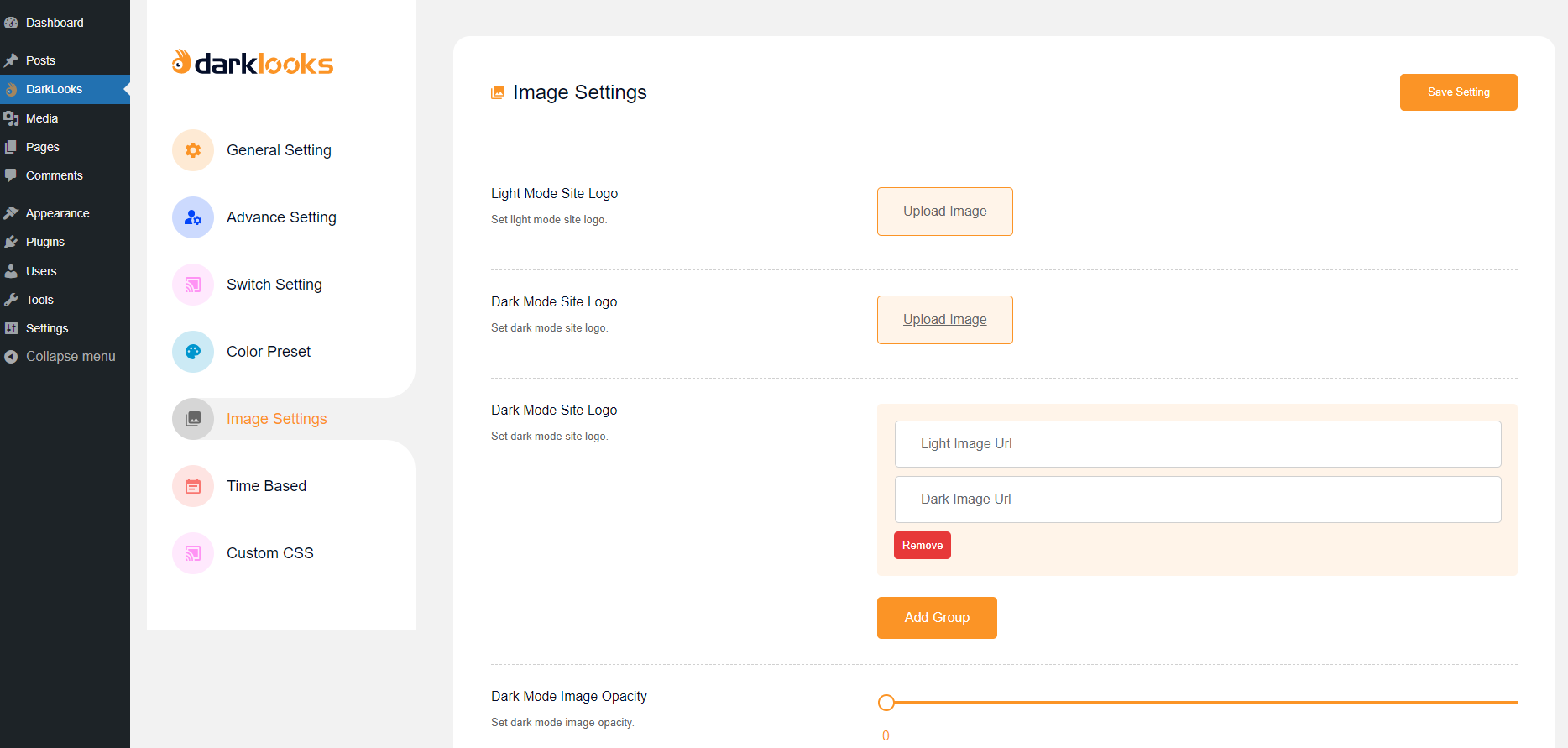 Time Scheduled Setting
Set your own preferable time to get the dark mode activated on your WordPress site. It's worth mentioning, once you set your preferred time, there's no need to set that up again and again. The dark mode on your site will automatically turn on according to your scheduled time. For having so, always keep turned on the section called Enable Dark Mode Based On Time.

Custom CSS
Here's come the most interesting and exciting part of this dark mode plugin. If you ever face any issues with anything in the dark mode then you can easily sort that out with the help of the custom CSS add option.

Why DarkLooks- WP Dark Mode Way Better than Other Plugins
Undoubtedly, there are plenty of dark mode plugins available for your WordPress site in the market right at this moment. A very obvious question might pop up in your head: why should you choose DarkLooks over other plugins?
Well, the answer is pretty easy, which is, DarkLooks- Dark Mode Switcher FREE version is offering you the features that you can't even imagine getting in a free version. So, without any doubt, it makes DarkLooks way better than others to have on your WordPress site. That's the dark mode plugin on which you can surely count.
Okay then, let's have a quick eye on the features that DarkLooks offers in a FREE version which no one ever thought of.
Comparison Between DarkLooks VS Others: FREE Version
What goes on in our minds when we see or hear a free version of anything? Yes, you're thinking right, there will always be some drawbacks in the free version in contrast to the pro/paid version. However, you'll be surprised to see the features that DarkLooks offers in a FREE version of WP dark mode for your site.
Free Version and Its Features:
The amount of yes in the DarkLooks section of the below-attached image says all. You'll be getting way more than you think with this amazing WP dark mode plugin.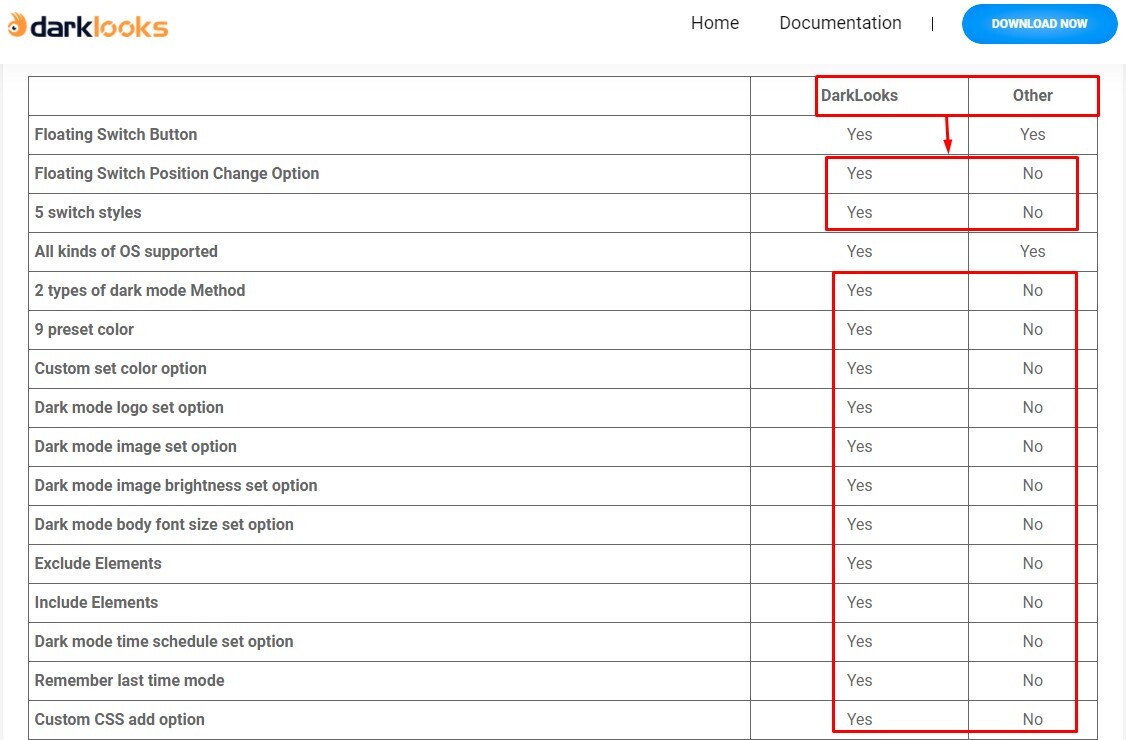 Let's elaborate a bit about all the features you're getting in the FREE version of dark mode plugin-DarkLooks, which you never thought of for sure.
Floating Switch Position with 5 Switch Styles
You can set your dark mode floating switch position on your WordPress: Top, Bottom, Left, Right on the page. Additionally, 5 switch styles are available. Pick and go with whichever you like.
2 Types of Dark Mode with Dark Mode Logo Set Option
It's all about dark mode; so, you'll be getting two types of dark mode options with a dark mode logo set option. The logo will be adjusted automatically according to the color (Light/Dark) of your site.
9 Preset Color and Custom Color
There are 9 colors that have been presented for you to choose from in this free version of the WP dark mode plugin. Color customizable will also be possible here if you want to.
Image Set/Brightness Adjustment/Body Font Size: Dark Mode
The heading says all; by being activated in the dark mode plugin on your WordPress site, you can set the image, adjust brightness and body font size as well.
Exclude/Include Elements
Selectors in CSS allow you to exclude certain elements from being affected by dark mode, and the dark mode is only applied to the elements within the selectors.
Scheduled Time and Remember: Dark Mode
The time frame can be scheduled to activate/deactivate dark mode on your WordPress site. With extending, always remember the last time mode in which you were on your site no matter how many times you refresh your WordPress site, close and inter it into your browser as well.
Custom CSS
If you ever face any issues with anything in the dark mode then you can easily sort that out with the help of the custom CSS add option.
Insights
At this point, you might be wondering why you were unknown about DarkLooks- Dark Mode Switcher for your WordPress site. Nothing is too late; so, download and install the DarkLooks dark mode plugin on your site without being delayed anymore.
When you're getting these many features on a FREE version, what's the need of going with paid or pro? Keep your eyes on DarkLooks- dark mode plugin, we'll definitely come with a bunch of extra features as early as possible in the Pro/Paid version as well.
ThemeLooks: Design with Love Code with Care
We, the ThemeLooks, are widely known for making WordPress themes and plugins over the years. Throughout our collaboration and integrity, we will offer you the best themes, websites, plugins, and templates.
Feel free to check out our Themeforest and CodeCanyon profiles if you wish. There are plenty of other WordPress themes and plugins you may be interested in finding.
Let's Check Themeforest Profile Out